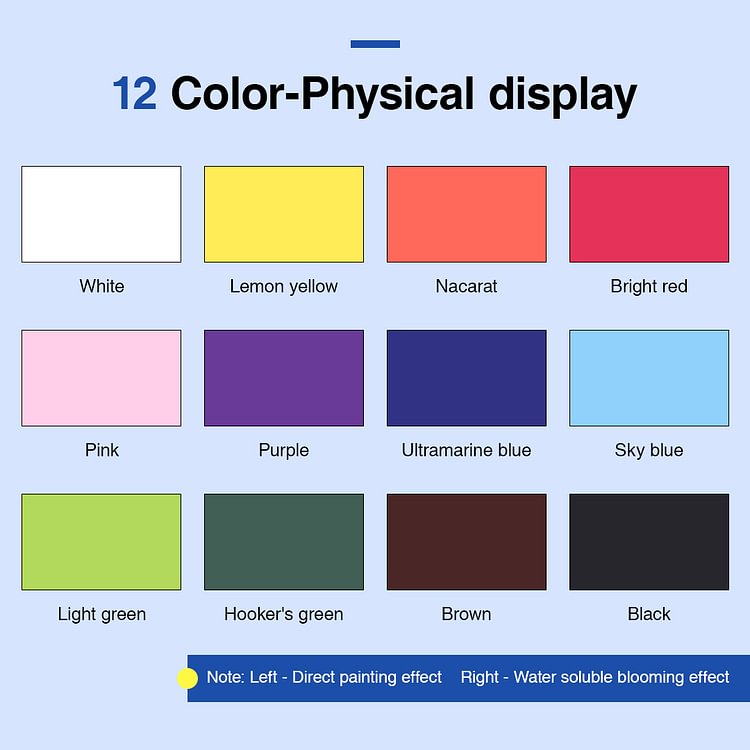 First of all, we have to know that oil pastels are not equal to crayons, or soft pastels. Compared with crayons, oil pastels are softer, the colors are brighter so it is easy for coloring. It can be mixed with oil paintings to make oil painting effects.

How to use oil pastels?
1. When using the oil pastel, you need to use a little more strength, so that the oil pastel will be attached to the paper, which is convenient for coloring.

2. The oil pastel has good coverage, so if you use the wrong color, you can cover it with the correct color oil pastel, or use a scraper, painting knife, or other tools to remove it.

3. When using oil pastels of different colors alternately, be careful not to mix other colors on the oil pastel, it may cause the picture look messy, in order to avoid unevenly color mixing, if other colors are stuck, you can erase them with paper and paint them again.

4. The mud rubbing is normal, the harder oil pastels are easier to rub mud. You can wipe the mud off with your hands or tools, or remove them if you need them.

5. The edge of the oil pastel can be used to outline lines.

Montmarte Oil Pastels easy to use for both professionals and beginners, suitable for artists and anyone who loves painting and wants to learn oil pastel painting. This set offers you 26 Glitter colors, with the highly pearlescent pigmented oil pastels, your inspiration will be easier to displayed on the paper and performed better, it brings your inspiration into reality.


Compared with regular oil pastels, it is made of special pearlescent pigments to add to your painting with a glitter effect. It has pearlescent and metallic brilliance, which will sparkle and reflect under the light. Some of the colors are very textured. That makes it meet the various painting requirements.
Note: Oil pastels need to be stored at room temperature and keep away from moisture, sunlight, and high temperatures.

Oil pastels techniques
1. Flat painting -

An oil pastel spreads specific color blocks evenly on the paper. You can first outline the area lines to avoid painting the edges.

2. Color mixing -

Use two or more color oil paint sticks to mix colors, mixing colors will make the picture richer, hazy and soft. You can use your fingers or scraper to rub the mixed part or use white oil pastel to make the transition, which will make the picture more natural.

3. Stippling.

4. Overlay.
There are so many other techniques you can try it on, such as heavy pressure blending, light pressure blending, strokes, scumbling, sgraffito of paper, highlight with white, shadow with black, etc.

Artist's Grade Oil Pastels
The colors are exquisite, the coloring, mixing, and overlay are as good as the oil paint. It can fully display the effect of oil painting and meet the difficult needs of various painting techniques.

The oil pastels are soft, the coloring is even with a smooth stroke, which makes painting easy, suitable for blending and scraper skills.

Non-toxic soft pastels with highly pigment materials: the oil pastel set is made of high-quality pigment making it easier to use.

【Best Gifts】Multicolor crayons help children develop their unlimited imagination. Perfect for developing your child's coloring skills. Perfect birthday gift for kids 3 years old and up. Help cultivate children's imagination, creativity, thinking ability, memory, and hands-on ability.

WHY CHOOSE US?
We work directly with manufacturers all over the world to ensure the best quality of our products. We have a Quality Control department which helps us to keep our promise!
Price is always competitive.

Awesome Customer Service.

Amazing products along with High Quality.

Read reviews from our lovely customers.
CLICK ADD TO CART TO ENJOY THE COMFY!


*** Please read our Policies carefully
Secure payment

with SSL Encryption.
If you're not

satisfied

, please contact our customer service team
We will do our best to ensure that you are 100% satisfied with the purchase!